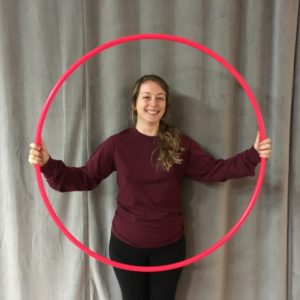 Jennifer S.
Melanie's courses have taken me for a whirl, quite literally! I love coming to class. Melanie's positivity and you-can-do-it attitude is infectious. She has incredible talent for breaking down the moves to be easily understood--the hallmark of a great teacher. The atmosphere is relaxed and nonjudgmental. I love coming to class--it is a weekly treat. I love hooping because it challenges me. I have always been a dancer, and hooping taps into that while always giving me something to practice. Hooping has been integral to me spending more intentional, fun alone time with myself and becoming a more confident individual.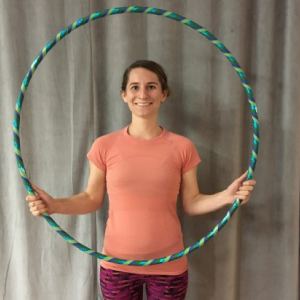 Amanda B.
Hooping has brought confidence to my life! I love moving in unique and beautiful ways with my sacred circle. Classes, in particular, have boosted my confidence and provided me a space in which I can ask questions. During class, I am encouraged to explore and experiment and play off the energy of my fellow hoopers.  I've expanded my hooping lexicon and made my flow more dynamic thanks to Melanie!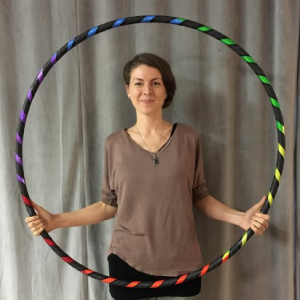 Jessica H.
Taking hoopdance classes with Mel has been one of the best decisions I've made! It has helped me to overcome inhibitions around dance and heal old stories that have held me back from tapping into my flow. Hooping has served as a catalyst for me in my path of integrating mind and body as well as helped me make profound leaps and bounds in the process of rewiring some very hardwired somatic patterns. I started this with no prior experience in hooping or dance classes and felt a bit timid because of that. Over the last six months, I have found the courage to take a variety of dance classes and have felt more flow in my life than ever before! I would highly recommend hoopdance to anyone regardless of age, size or gender! It has quickly become a passion that I look forward to building on and cultivating throughout my life.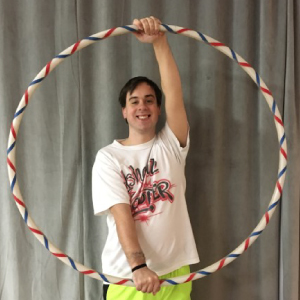 Chris C.
I've been hooping for a long time with Melanie. She is the best hoop teacher in the world. I have been learning about duck outs, back rolls and chest rolls. I love hooping. It is good exercise and I have fun.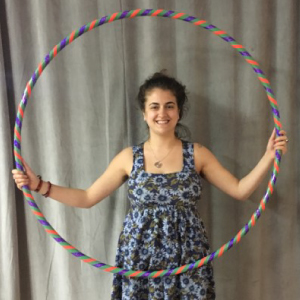 Leyla E.
Melanie's beginner class has been the highlight of my week for the last 2 months! The course got me back into my body and has facilitated the experience of flow. Dance has always been a big part of my life but the chaos of life had taken over and I had not been taking care of myself in this way. This course provided me the structure I needed to get moving and reminded me how good I feel when I'm dancing. I really enjoyed how Melanie allowed time for review and was able to work with us both as a group and individually. I can't wait to take the intermediate course and continue this journey of the hoop!!!!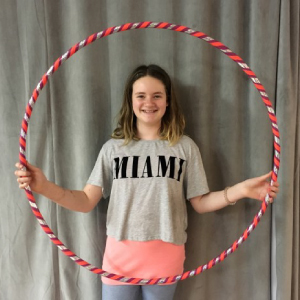 Ruby S.
I have always liked hooping and I thought it would be cool to get exercise and learn new tricks.
Julie (Ruby's mother)
My daughter, like most people, prefers to succeed. If something is too challenging, she might feel frustrated and want to stop trying.  Melanie's beginner class had the perfect amount of challenge for Ruby and the progress she made each week was highly noticeable.  Ruby now has a bag of super cool hooping tricks she can do that she is proud of and excited about.  She has now committed to continuing on with the Intermediate sessions! I could not be more pleased with this class, the skills Ruby has learned, the exercise she is getting, the confidence she has gained and how empowered she feels because of her success.  We feel lucky to have Melanie as her teacher, guide, and mentor.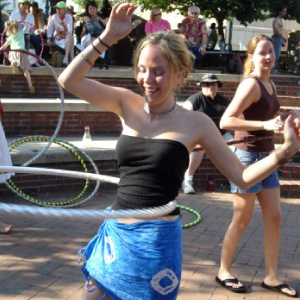 Laura E.
While hoops and those who love them are commonplace in the Asheville community today-- it's rare to walk down a residential street without spotting one resting on a porch, or to attend an outdoor event without seeing someone getting their hoop jam on-- this was hardly the case before Melanie's gift of Asheville Hoops got the trend rolling.  I first signed up for beginner's hoopdance lessons in 2008 and it changed my world.   Although I was delighted to find that I could keep a hula hoop spinning around my waist as an adult, I had never pursued movement arts before.  I was discouraged from doing so due to low self-confidence and negative body issues for many years.  In fact, I left many of my first classes in tears, torn between a deep desire to learn the graceful, mesmerizing techniques Melanie demonstrated every week and a deep fear that I was too clumsy to succeed.  Nevertheless, Melanie's ability to meet students at their skill level with patience and gentle, consistent encouragement, her acknowledgment (and embrace!) of the challenges hoop dance can present for different people, and her constant emphasis on having fun kept me coming back.  She frequently met with me before class to scaffold frustrating moves, and always exuded warmth and humor.  As a result, I practiced furiously at home and soon began reaping the benefits of her instruction.  By the end of our first beginner's series, I had not only learned a ton of cool tricks; I had found a passion and wanted to give it another whirl.  And for the first time, I wasn't shy to dance in public (as long as I had one of her colorful and shimmery custom-made hoops in hand). Since my first class, I have taken several intermediate classes and many workshops in hooping.  I have had the opportunity to perform publicly, both individually and in groups, multiple times.  I can literally spin a hula hoop on my body from head to toe!  But the most satisfying moments have been using Melanie's language and knowledge to coach people, sometimes total strangers, who are interested but intimidated by the idea of hula hooping.  Asheville Hoops gave me an experience beyond a fitness class and entertainment; it was my first introduction to mind-body-spirit connection, and for that, my gratitude is infinite.