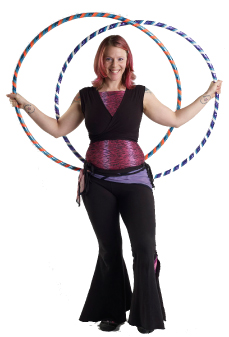 Melanie MacNeil, aka "melmacpink", loves to hoop and her favorite color is pink! She specializes in crafting professional quality fitness hoops for all ages.
Since 2007 she has taught  Beginner, Intermediate and Advanced Hoopdance classes in the Asheville area. She also delivers hypnotic hoopdance performances at local festivals, parties, and events.
Melanie has been hosting the the Asheville Community Hoop Jam, with her husband George Pond since 2007. She also provides children's hoop activities at summer camps, fitness centers, school programs and birthday parties throughout WNC.
Melanie is the founder and driving force behind Asheville Hoops and is thrilled to be dancing and co-writing choreography for Asheville Hoops Troupe! Melanie has attended LEAF festival since the year 2000 and loves the spirit, community, and art that is the LEAF family.
When not attending music and art festivals such as LEAF, Burning Man and Transformus, she is busy with her 2 sons, Jojo and MacKinnon Pond. She currently resides in a magical mountain chalet in Hendersonville, NC, with the wise Barred Owls, rare white squirrels, and the mysterious Blue Ghost Fireflies.