Hire us for your next event!
Asheville Hoops Troupe has been bringing the joy of hoops, flow and dance to the WNC community since 2008. This colorful and talented group of merry makers create tightly woven, original choreographed hoopdance routines and perform them for audiences across the region.
In addition to providing hypnotic entertainment, the troupe is often found donning fabulous, original costumes, radiant facepaint and colorful LED hoops made by the CosmicHooper. The Asheville Hoops Troupe is available for parties, festivals, school events, weddings, and more. Contact info@ashevillehoops.com to book for your next event.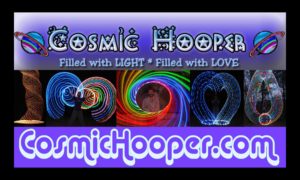 Meet our Hoopers
---
Melanie MacNeil
Melanie is the founder and driving force behind Asheville Hoops and is thrilled to be dancing and co-writing choreography for Asheville Hoops Troupe! Melanie has attended LEAF festival since the year 2000 and loves the spirit, community, and art that is the LEAF family. You can read Melanie's full bio 
here
.
---
Rob Grader
Rob Grader, aka The Cosmic Hooper, is a kid at heart who loves to play!  He has a strong background in dance – with 10 years of training in jazz, contemporary, and ballet – and he began dancing with a hoop in the fall of 2001.  As a proud member of Asheville Hoops Troupe, Rob has been choreographing, teaching, and performing hoop-dance routines with the troupe since 2010.  Rob is also the owner/operator of Cosmic Hooper's Emporium of Bliss (
www.cosmichooper.com
), specializing in high quality, handcrafted LED hoops since 2009.
---
Nicole Jackson
Nicole has been hooping since 2008 and has been a member of Asheville Hoops Troupe since 2011. She is a mom, school psychologist and part-owner of the Farm to Fender food truck with her husband Jeremiah Jackson by day; she is otherwise known as and the "hooper in teal" by night. She hoops as moving meditation, to express herself in dance and to connect with friends.
---
Lacy Hoyle
Lacy Hoyle has been an Asheville local for 16 years, but she didn't fully embrace her Asheville side until she picked up a hoop and started spinning it round her waist in 2009. She caught the hoop bug hard, hooped for hours on end every day, and took every class offered by her hoop mana Melanie MacNeil. She eventually assisted in teaching classes. She co-founded the hoop dance performance trio The Infinite Spinners, which introduced her to her love of performing and writing choreography. She was honored to join Asheville Hoops Troupe in 2014, and enjoys writing choreography with the troupe and pushing the limits of troupe capabilities with complex routines and combinations, and incorporating other elements of dance into routines.
Hoop dancing appeals to Lacy because not only does it help her to be more mindful and find flow, it's also a way to have fun and exercise in a creative and unique way. When she's not hoop dancing, Lacy is a licensed Massage Therapist and Food Truck Office Manager Extraordinaire. She enjoys volunteering, yoga, running, cooking, and snuggling with her two cats.
---
April "Shapril"
April "Shapril" hails from Davie County, NC and began hooping in the new year of 2008 when she walked into melmacpink's hoopdance classes offered in Asheville, NC. She was immediately hooked. From there April and Melanie became fast friends and together they began the first steps towards creating what is now known as Asheville Hoops Troupe. Hooping created a new outlook on life for April as she delved deeper into a journey of empowerment, body awareness and radical self-expression. Hooping has created a sacred community for April and has taught her the value of gratitude and helped her discover a newfound understanding of love. Today, April has opened her own business called Ouroboros Movement Studio located in West Asheville. The process of opening this gorgeous studio has been a culmination of years of her commitment to the flow arts, music, art, and fashion, as well as the local hooping community. Her gratitude runs deep!
---